Nokia Digital Automation Cloud
One platform that makes private wireless networking and automation easy
4.9G and 5G – we've got you covered
Nokia Digital Automation Cloud (DAC) is an innovative, high-performance, end-to-end private wireless network and edge computing platform designed to boost the digital transformation of your business. With plug and play simplicity, Nokia DAC is meeting mission-critical connectivity and edge computing needs of asset-intensive industries around the world.
Nokia DAC uses 4.9G/ LTE and 5G to deliver pervasive high-bandwidth, low-latency connectivity and improved network predictability. This ensures t your workers, sensors, equipment and vehicles remain reliably and securely connected. Available as a service, Nokia DAC solutions allow you to easily manage all your sites around the world from a user-friendly, web-based portal, through which you deploy applications, manage devices and SW updates.
Solution components
Your Nokia DAC comes with edge computing hardware (MX Industrial Edge), our leading AirScale and Flexi Zone radio platforms, add-on industrial applications and a selection of ruggedized devices. It also comes with spectrum - your choice of licensed, shared (CBRS) or unlicensed (MulteFire) spectrum, giving you secure, pervasive indoor and outdoor connectivity.
If you select the 4.9G version with its rich ecosystem of compliant devices, you can later upgrade to 5G via a simple software update and replacement of access points. It also gives you a head start on 5G by defining priorities for different sources of data through network slicing. By deploying 5G SA, you will benefit from increased capacity and speed, lower latency, and energy costs.  The two generations are combined in Nokia DAC 5G non-standalone (NSA) and offers you an alternative route to 5G. Whatever use case you have in scope, we've got you covered.
How it works
Robust, secure and predictable wireless connectivity platform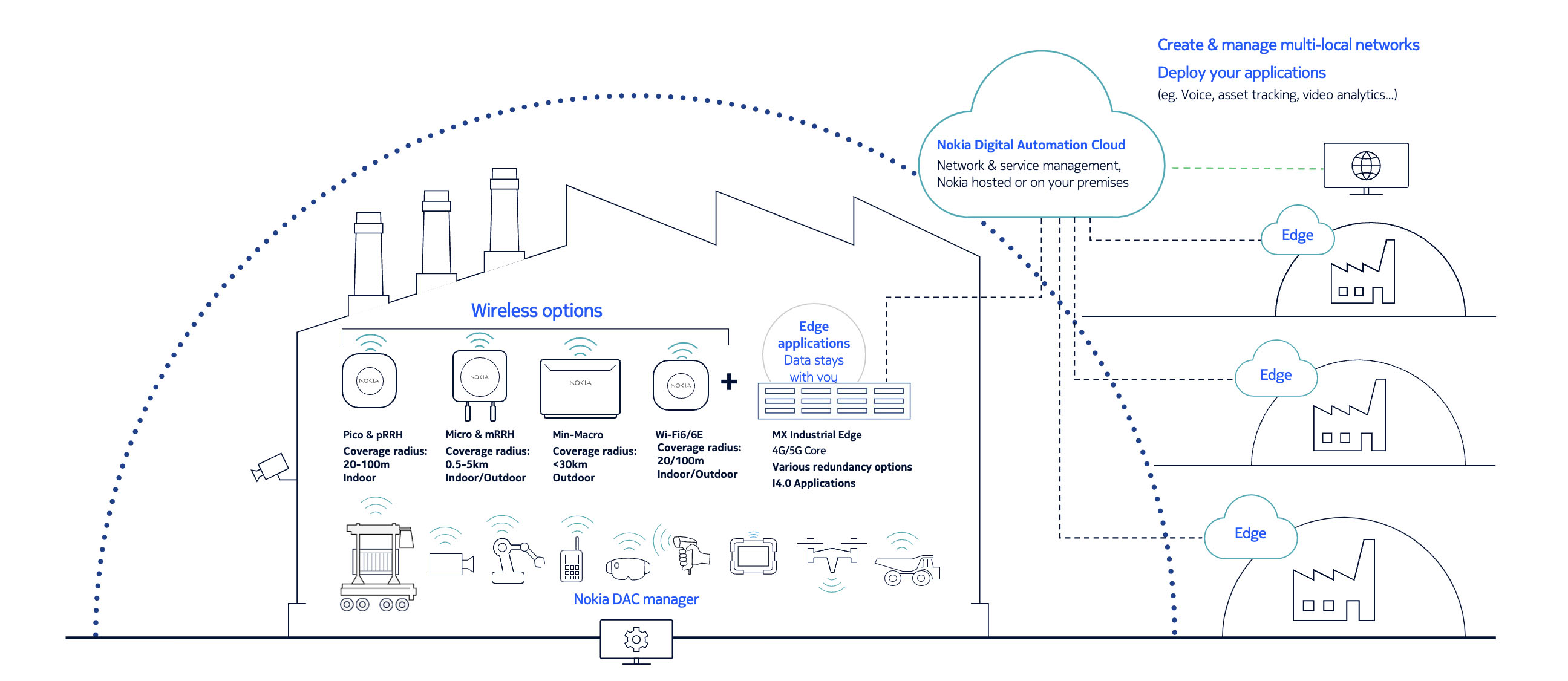 Flexible and scalable solution
You can go direct to 5G by opting for  Nokia DAC 5G standalone, or start with the proven 4G version and evolve flexibly to 5G as the user equipment ecosystem matures.[showmore]
Scale your private network in capacity and size with our pay-as-you-grow solution, from a single ultra-local small deployment to multiple, globally distributed local networks. With a global cloud you can achieve the same capabilities everywhere.
Build a subscription-based customized network according to your needs or implement a digital automation platform as an up-front investment.

Store data locally and securely
Your data never leaves the premises, unless shared by choice through a local breakout function. Data is computed and stored locally in an ultra- scalable edge cloud.[showmore]
Security is ensured by an independent and isolated network architecture design, data encryption, dedicated hardware and SIM based authentication.

Easy deployment of end-to-end cloud
Choose the fastest route to automation with this quick and easy to deploy private wireless network solution. By deploying to one or several local networks from the regional[showmore] Nokia Digital Automation Cloud, you can achieve identical infrastructure across all your premises, and gain measurable benefits from IoT deployments instantly. This end-to-end solution offers in-house digital automation applications as well as easy integration to third-party applications with open API framework. The web-based self-service portal provides full network control with a user-friendly interface to manage your network applications.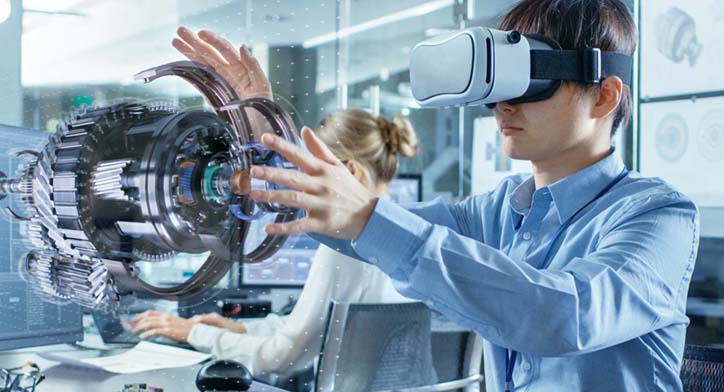 Local edge computing
Leverage secure local OT edge computing with our Nokia MX Industrial Edge. Nokia Digital Automation Cloud is edge centric and cloud supported, ensuring both the proximity to data and low latency needed to support demanding and data intensive applications such as autonomous vehicle control, high accuracy object positioning, video analytics, AR/VR etc. Local computing power also ensures data privacy, as information does not have to leave the premises unless you wish to export it through a secure channel.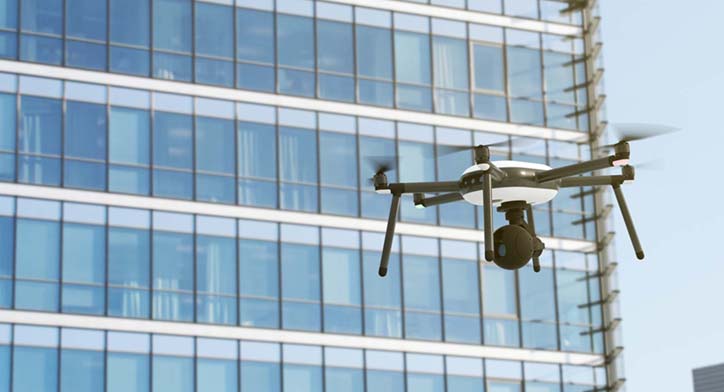 High-availability and multi-local network
Are you seeking a multi-local network set up for your enterprise locations around the world? With Nokia DAC, you can customize the configuration for [showmore] a uniform experience across geographies. It can easily be replicated to new locations, and existing sites can be extended. Thanks to fast and reliable handover from one core network to another, you can implement advanced IoT applications that demand reliable business critical connectivity such as remotely controlled vehicles drones and robots.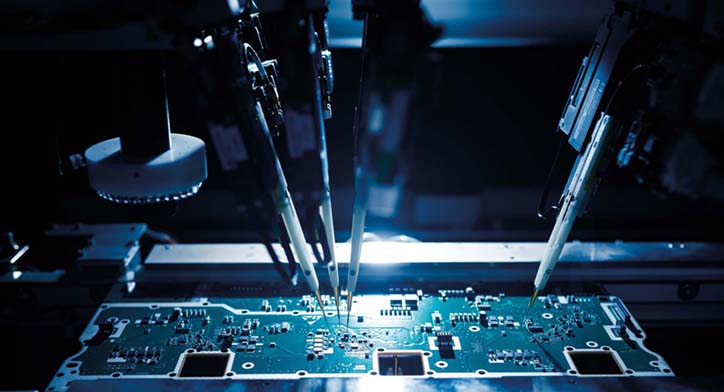 Micro-services framework
Nokia DAC has a built-in micro-services framework that can be used to optimize the right service level for each application.[showmore]
These virtual connections use the same underlying network infrastructure but are dedicated to the precise performance needs of each application, whether that's ultra-reliability, low latency, extreme capacity or any other requirement. It's like having a different service tailored to each need and makes deployment of multiple applications easier.
Explore our customer success stories

Digitalize your business with Nokia Digital Automation Cloud
Please complete the form below.
The form is loading, please wait...